Trauma-sensitive consultancies and training
For over 20 years now I have journeyed with projects, groups, and teams in Germany and Austria, and also internationally. My main focus has been on Sub-Saharan Africa, but I have also worked in other countries and continents.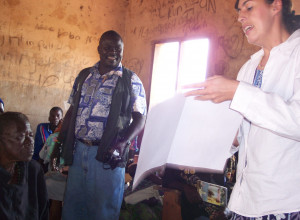 My professional approach in accompanying is underpinned by two central competencies. Firstly, as a psychosocial trauma-sensitive consultant, I firmly align myself with the needs of my clients through creative and participatory needs assessment methodologies that reinforce a sense of safety and empowerment while avoiding the risk of retraumatisation. Within this framework, I start by appreciating what an organisation or project does well and introduce new skills and knowledge that will support the positive aspects of their approach.
Training areas
Secondly, as a trainer and group facilitator, I have conceptualised and implemented trainings with different organisations on various topics, including:
Basic counselling skills / trauma-sensitive communication
Trauma-related topics such as trauma psychodiagnostics, factors of resilience and vulnerability, transgenerational trauma, trauma dynamics and teams, and similar topics
Sexual and gender-based violence and gender trauma psychology
Psychosocial methodologies: empowerment work; conscientisation processes, community behaviour change;
Mainstreaming trauma-sensitivity in projects and activities
Self-care and care within organisations
Participatory methodologies and training for community-orientied psychosocial work
Liberation psychology in trauma work
Spirituality and feminist theology
A selection of partners with whom I have collaborated as a consultant and trainer:
AGEH e.V., Köln
Akademie für zivile Konfliktbearbeitung, Königswinter
Austrian study for peace and conflict resolution, Burgschlaining
Brot für die Welt / eed, Berlin
Caritas International, Freiburg
Caritas Salzburg
Diakonie-Flüchtlingshilfe Nürnberg
Eirene e.V., Neuwied
Forum ZFD, Köln
Frauengesundheitszentrum Salzburg
Frient, Bonn
GIZ, Eschborn / Bonn
medica mondiale e.V., Köln
Misereor, Aachen
missio Aachen
Missionsärztliches Institut, Würzburg
Rotes Kreuz Salzburg
Swisspeace / KOFF, Bern
Weltfriedensdienst e.V. Berlin
If you are interested in knowing more about these topics and how I can support you through my offers, please contact me.