Working around cancer
Cancer always affects the whole family
Most people find it both shocking and stressful to be diagnosed with cancer, and can be left feeling very afraid. You may be in the middle of your life, with children who still need care, and time seems to just stand still. Life loses all sense of normality. And this is also true for partners and family members of cancer patients. And most especially their children.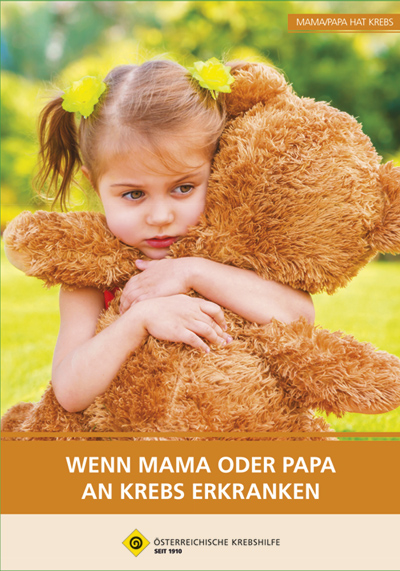 The Austrian Cancer Aid in Salzburg offers helpful, strengthening counselling for people in this situation. One special form of counselling is working with families within the framework of the "Mum / Dad has cancer" project, and as part of this initiative I counsel and support parents who feel that their children need psychological support. I try to help them find answers to some of the most important questions they are facing, such as:
How do I explain to my child that I have cancer in a way that they won't find too overwhelming or frightening?
Should I talk about it at all? Or is it better for my child not to know, so they don't worry too much?
(Especially for single parents) Who can take care of my child while I'm being treated at hospital?
My child has become aggressive since my illness; what should I do?
My child is doing less well at school – is it because I've got cancer?

Etc.

As a systemic family therapist, I think it is of the utmost importance to empower the whole family to cope with cancer, and to employ open and receptive communication which ensures that the children's questions and worries matter, while also acknowledging their right to play and have fun – despite, or maybe even because of, the illness. In my experience, families can grow closer together and become more loving when they deal with illness in an open, authentic manner.

If you feel you would like your family to be supported in this way, please contact the Austrian Cancer Aid Salzburg's counselling centre, and they will arrange an initial appointment with me.


Sometimes, however, healing is not possible

Many cancer patients recover completely, and continue to lead a normal life. For some, however, healing is no longer possible. People with a progressive illness who are facing a limited life expectancy can be cared for during the day in the Kleingmain "day hospice", where a dedicated team of volunteers offer holistic support. The doctors in this day hospice often recommend psychotherapy to help patients to deal with questions about their illness, about death and dying, and also clarifying some questions about life and their relationships. These therapeutic conversations, which are arranged with me through the Austrian Cancer Aid Salzburg, take place during the day in the pleasant, welcoming atmosphere of the hospice.